I was contacted by Stride Everyday to review their amazing new panties! Panties with technology, I say. Genius! When I first got them in the mail, I couldn't wait to give them a try. I don't have urinary incontinence but I still wanted to review them, they are high quality undies! The outer feel of the sport bikini reminds me of a swimsuit bottom, but not as thick. Now I won't go into the nitty gritty details about what it does for you, not sure you wanna hear it from me so...Check out the facts...
Here is the story behind the panties, created by Wendy Spencer!
WENDY'S STORY
One thing to know about me – I love a good challenge! When a friend dared me to run a marathon, I thought, "Sure – why not?" So I ran that marathon, and then did another, and then another. I continued running through my pregnancy, enjoying the opportunity to stay active. But after the birth of my son, like many other women out there, I was shocked to realize I had stress incontinence. The "embarrassing" problem of always worrying about what might happen if you laugh too hard, or sneeze unexpectedly. So I looked for a solution to the issue, but was disappointed that there were really no good options out there. Sure, you could use pantiliners, but they're pretty uncomfortable and are definitely not an environmentally friendly option. There was no way I was going to use pantiliners every day! I wanted something functional, that would still allow me to feel sexy. And so the STRIDE solution was born. We've created sexy, practical, and panties that help women deal with the issue of light leaks – without anything being disposable. So let's take light leaks out of the closet and toss the embarrassment to the curb. After all, this happens to 1 in 3 women from various ages and ethnicities!!
I always questioned why feminine products were disposable...how is that a good thing? The more women I talk to about coughing, jumping, laughing, sneezing, everyone has a story and everyone has a "leak", so why are we keeping this issue a secret? Women have been told to hide this forever, but I think it's time to talk about it and embrace that part of being a woman. Let's shake up this category, let's laugh about being a woman and all the little issues we deal with on a daily basis. Let's embrace being part of a woman and celebrate our stories
So, the search began. Wendy and her team worked with a strong R&D partner to design the patented fabric technology and permanently built it into the panty's gusset. The patented technology is revolutionary in its super-absorbent ability to wick moisture from the top layer, absorb and deodorize…so you and your clothes stay dry.
There are 4 different styles to choose from, I chose the Sport bikini to review & I LOVE it.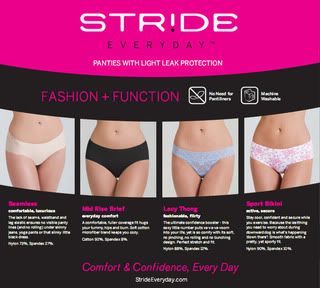 My Thoughts....
These are definitely true to their size, fits me like a glove.
They are comfortable & breathable.
Worth the price.
A very unique idea!
Head on over to
StrideEveryday
& grab yourself a pair of these panties- ranging from
$14.99 to $24.99 a pair.
Special promo code for my readers- Use "MAMA23" to get 30% off orders that are $35 or more.
Stride is so generous, they are willing to give away a pair of these fabulous undies to one of my Everyday Mama followers!
You must be a public GFC follower to participate in this & any giveaway (private doesn't count)
Please remember, if it says that an entry is worth +2, you must leave a separate comment for each.
Winner will be chosen with random.org randomizer on Sept 30th at 10pm.
US readers only, 18+. Please make sure I can easily locate your email or leave in comment.
Mandatory Entry: (must be completed for others to count): Head over to Stride & return, telling me in a comment which panty you would choose if you won!
Be a GFC follower of Everyday Mama (+1 entry)

"Like" Everyday Mama on Facebook (+2 entries)
Follow Everyday Mama on Twitter (+1 entry)

Blog about this giveaway & link me to it (+3 entries)

Vote for me on Top Mommy Blogs, located on sidebar (+1 entry daily)

Send a friend over to follow me via GFC, make sure they mention that you sent them! (+3 entries per friend)

Tweet about this giveaway (+1 entry daily)
Use this tweet: #Win a pair of Stride Everyday panties @Luvr4ula, ends 9/30! http://tiny.cc/hf5ft