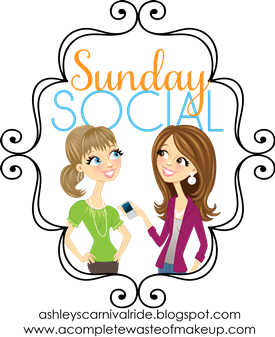 Came across this adorable blog & meme and I just had to jump aboard the hop!
A Complete Waste of Makeup has such a beautiful clean layout, she pulled me right in. Hope you'll go on over and check out her blog.
What is currently on your wish list?
I really would love the new iPhone 5, a KitchenAid mixer, and the seasons of Smallville & Parks & Recreation
What's a new fall TV show you've added to your DVR?
Well, I don't have DVR but a new show I've come to love is Parks & Recreation. I'm all about comedies.
Share your Social Media links for us to follow you on (pinterest, twitter, facebook, etc) Tell us which is your favorite and why?
Pinterest
Twitter
Facebook
Google +
My favorite is probably a tie between Facebook & Pinterest. Facebook because I like to keep in contact with my friends & Pinterest is just plain fun!
What is a TV show or Movie or Song you could listen to or watch over and over and over and never get tired of…feel free to name one of each:
TV show: The Office
Movie: Mr & Mrs Smith
Song: anything by Imogen Heap- she's so soothing
Link up & join in! Have a great Sunday.